Celebration Canadian Fire™ 0.82 CT. T.W. Diamond Engagement Ring in 14K White Gold (H-I/SI1-SI2)
Item# 19722339
Orig. $4,549.00
Now $3,639.20
Take her breath away with this absolutely stunning 0.82 ct. t.w. Celebration Canadian Fire™ diamond engagement ring. Fashioned in 14K white gold, this exquisite ring showcases a magnificent 0.45 ct. certified Celebration Canadian Fire™ diamond centre stone, boasting a colour rank of H-I and clarity of SI1-SI2. This rare ideal-cut diamond shines with extraordinary brilliance. This exceptional diamond is bordered with a cushion-shaped frame of smaller accent diamonds, which also line the ring's shank. Certified Canadian diamonds are accompanied with a Certificate of Authenticity guaranteeing its Canadian origin. This style also includes a certificate that includes a photo and description of the diamond, which guarantees quality and can be used for insurance purposes. View product details.
Special Offers
FREE SHIPPING with Ship-to-Store
Rated 3.7 out of 5 by 7 reviewers.
Rated 5 out of 5
 by
ColorMeMarried
I love it!
I received this ring 6 months ago from my now fiance. The ring is absolutely stunning and sparkles like crazy( when clean). It seems to get dirty quite easily and it drastically impacts the shine. No stones have come out at all (knock on wood). The only issue I have that will be taken care of shortly, is when my ring went to be sized, somehow the center stone was no longer centered inside of the halo. It isnt off by much- however, it is noticeable, to me. I got lucky with mine being as all my specs are better than this listing shows, but was purchased for the same price! I got a .58 centre stone, and a clarity of si1 and an H colour! It really is a beautiful ring that I will cherish for a lifetime! I couldn't have received a more perfect ring from a more than man! We also just purchased the matching canadian celebration band.. So beautiful!
March 15, 2016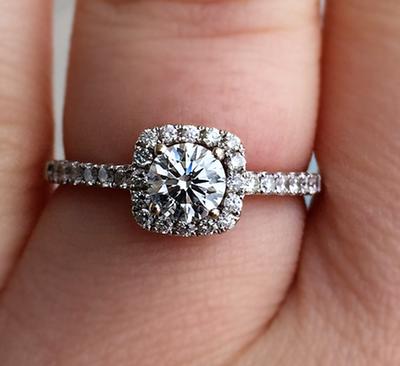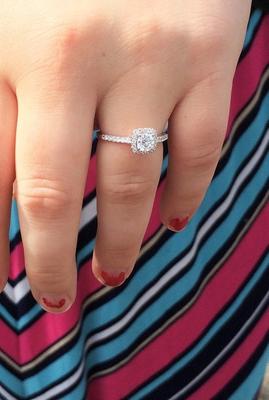 Rated 5 out of 5 by Babs Love it more than I thought! I was definitely worried about this ring, especially given the review from January 2015, which was the latest review when my now-fiance and I looked at People's in February. I have to admit, though, I loved the centre stone on the one in store, and we talked and decided that worst case scenario, if we ended up with a really poorly done ring we could ask another jeweller to recast it. The in-store rings all seem to be either the specs listed or a little bit better, so it's worth deciding what is important to you and going to one or two stores in person. My stone is actually an E, while another store we went to had a slightly larger centre stone than listed. Granted, I've only had my ring for about four months - but it has been rock solid. None of the stones are loose or lost, and I feel like - for a Canadian stone- it is excellent value, especially if you can track down a stone you love in person set in this ring. I have had nothing but compliments for my ring, and if you love this style it is totally worth giving it a try! One thing to note, though - if you have to drastically change the size (mine is now a 53/4) it may warp the setting and make the stones more likely to fall out! July 8, 2015
Rated 2 out of 5 by Hollester Beautifully Disappointing I love this ring and find it to be absolutely beautiful. Unfortunately, it is horribly designed and poorly constructed leading to frequent repairs for lost stones. I received this ring in Augus 2013 and just brough it in for repairs for the 6th time. The claws that keep the corner stones in place are too small and often break allowing the diamonds to fall out. I can honestly say that this ring has spent about as much time being repaired as it has on my finger. Peoples has kindly given me the opportunity to change my ring in for another that might hold up better but I'm torn due to the sentimental value of my current ring. My suggestion: As beautiful as it is - pick another. Like myself, you may find yourself considering returning it. April 28, 2015
Rated 2 out of 5 by Fire Poor craftsmanship I gave this to my future wife in July 2015 and less than 6 weeks later a diamond falls out. Would they not have checked on this while it was getting sized? 3 weeks to get it sized after purchase, less than 6 weeks to wear it and now it going to be gone for another 6 weeks for repair. When you spend that kind of money on a product, you expect excellent craftsmanship, pretty shoddy work really. I'll give People's credit that it has a lifetime warranty on the diamonds. September 11, 2015