0.71 CT. T.W. Certified Canadian Diamond Frame Engagement Ring in 14K White Gold (I/I1)
Item# 19985259
On the day you ask for her hand in marriage, honour her with this stunning diamond engagement ring. Beautifully crafted in cool 14K white gold, the eye is drawn to the 0.30 ct. certified Canadian diamond centre stone, boasting a colour ranking of I View product details.
Special Offers
FREE SHIPPING with Ship-to-Store
Rated 5 out of 5áby 4 reviewers.
Rated 5 out of 5
áby
KatieL
Beautiful, affordable ring!
My boyfriend (now fiancÚ) purposed with this ring last week and I am in love with it! I pointed it out over the last year or so when we would be passing by the store & he wanted an idea of what I like the most. I've looked at other jewelry stores and found a couple rings I liked there too, but I always kept coming back to this ring. It sits low so it doesn't catch on everything, which I love. I am a perfectionist, and when I looked at the ring in store, the main centre diamond looked a little bit "cloudy" to me so my fiancÚ bought the mount of the ring, without the main diamond, and he bought a higher quality diamond to have put in. I'm so glad he did because it sparkles even more beautifully now & I'm super excited to wear this ring forever. That being said, I will say that the diamond that comes with the ring looks great too, it's just preference. The little diamonds in the halo and on the band are super beautiful and sparkly. The ring type is also super easy to find a matching wedding band for it. Bottom line: the ring sparkles beautifully, and is super affordable. It's hard to capture the gorgeousness of this ring on the camera.
February 5, 2016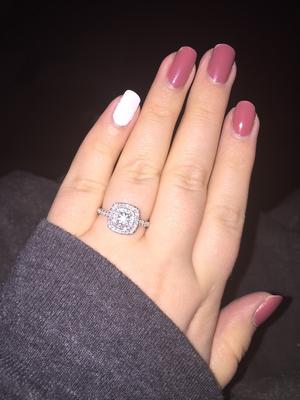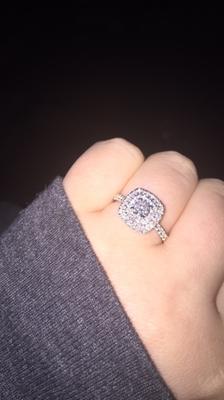 Rated 5 out of 5
áby
JustEngaged
In LOVE with this ring!
My boyfriend (now fiance!) just proposed to me with this absolutely gorgeous ring. I can't even tell you how much it sparkles, and it's so bright white! It is SO much prettier in person. If you're looking for a ring that you don't have to dole out a mortgage for but still want a beautiful, timeless ring, this is the one. I am so happy with it.
December 2, 2015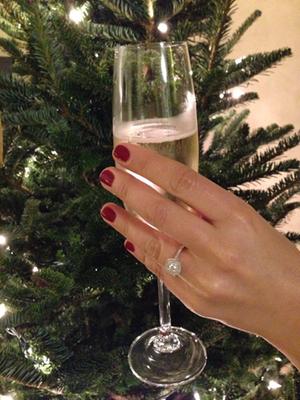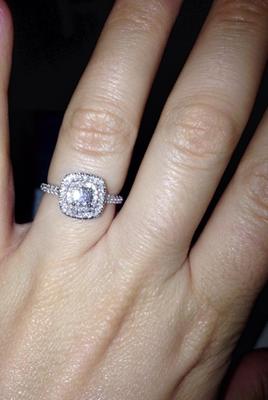 Rated 5 out of 5áby r0ssam Love it! This is my engagement ring. I am absolutely in-love with it! My fiancÚ and I picked it out together. It is exactly the ring I wanted. It sparkles beautifully. My favorite part about this ring is the fact that it sits lower on the band then most, I don't find that it catches on things. I really didn't want a ring with a cathedral setting. Also I didn't even realize at first but there is diamonds on the little arms on the under side. It is absolutely amazing. I cannot say enough good things about this ring. My plan is to get two diamond bands to match (the cut of the ring is really easy to match with a straight wedding band) - I just thing two looks amazing with this ring! My recommendation would be to wait for sales, we bought it on the black Friday sale and got a really good discount! If you are looking for lots of sparkle for a reasonable price I would say this is a good ring for you. August 6, 2015
Rated 5 out of 5áby Puppers BLING! This is my engagement ring. I exchanged the one I was given for this one... and I LOVE LOVE LOVE IT! I love that it is not a massive ring, yet it glitters to blind when the sun hits it. I have had it cleaned 2x since May ( it in now August) and I appreciated that they always check the settings, talk about how lovely the ring is..and how awesome it looks clean again. I would recommend this ring to anyone. My fiance gets many compliments on "his choice" of ring...I never tell them the difference. After all, he has to feel good about it too!1 I just wish it had a matching wedding band ! August 26, 2016