1.00 CT. T.W. Certified Canadian Diamond Round Frame Engagement Ring in 14K White Gold (I/I1)
Item# 19996875
This 1.00 ct. t.w. certified Canadian diamond round frame engagement ring is set in 14K white gold with a colour ranking of I and a clarity ranking of I1. Certified Canadian diamonds are accompanied with a Certificate of Authenticity under the Canadian Federal Government Code of Conduct guaranteeing its Canadian origin. This ring comes with a certificate that includes a photo and a description of the diamond, which guarantees quality and can be used for insurance purposes. View product details.
Special Offers
FREE SHIPPING with Ship-to-Store
Rated 4.8 out of 5 by 5 reviewers.
Rated 5 out of 5
 by
Sophi7207
Endless sparkle!
I purchased this ring because I wanted a change from my yellow gold wedding rings. I am so pleased with my choice! This ring sparkles and shines like a star. Not only do I find myself staring at it everyday but I also catch others around me admiring it as well. I paired it with a slightly curved diamond band and it works really well to enhance the look.
January 6, 2017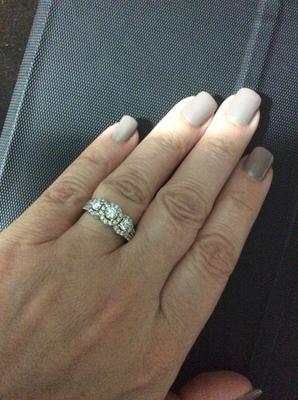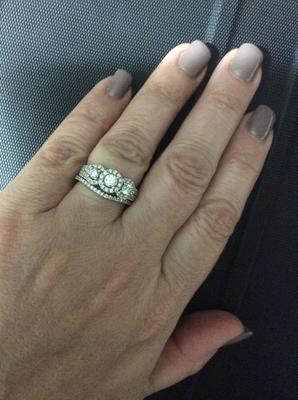 Rated 4 out of 5
 by
CDLK
WOW WOW WOW
This is my engagement ring and I am so in love with it. I love the vintage look and the strength the ring has. I work in health care and with kids so I needed something flat and nothing that sticks up too high. I love that this is not the typical engagement ring. I'm sad I have to bring it in to get sized, its too small. Not sure if it runs small or if its just me. Defiantly would recommend to a friend, but wouldn't because I want to be the only one that has such a breathtaking ring. I wish I could have paid more to upgrade the diamonds to have better clarity. My wedding band is below as well. .5 CT was too large and .25 was perfect. Tried the 5 stone band but the diamonds need to go from edge to edge to go with this ring. It matches with the sides of the ring perfectly. Best future husband ever!
October 12, 2015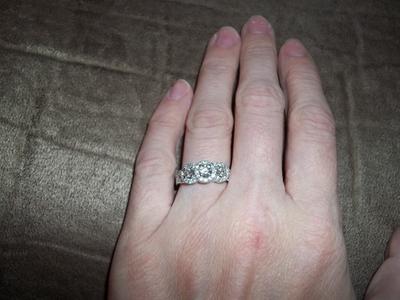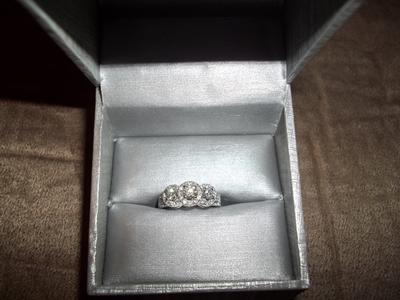 Rated 5 out of 5
 by
JayBear
Best Christmas surprise ever!
My boyfriend surprised me with this amazing ring on Christmas Eve and I was completely floored! It has a wonderful vintage feel to it, and it sparkles like no other! I get so many compliments on it... I love it!!
January 11, 2016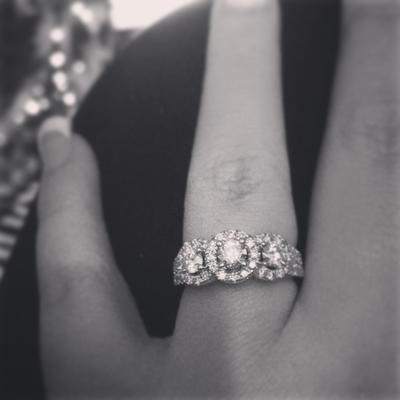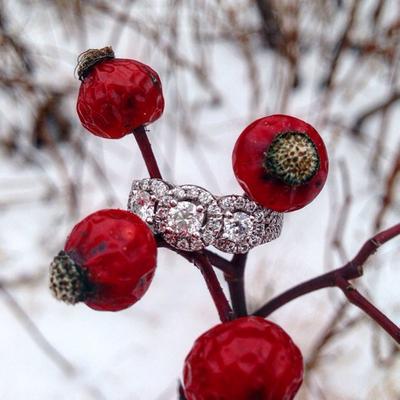 Rated 5 out of 5
 by
Kalley
Wow!
Wow,what a surprise when my husband came home with this ring for our anniversary! It is stunning. The three center stones are beautiful, well set and large enough that people can see they are unique stones, not a setting of multiple stones to look like a large one. I love that it is a Canadian diamond and the three center stones are laser inscribed. Can be worn as an engagement ring (we purchased a plain white gold band to go with it) or you could wear it as a right hand ring easily.
April 14, 2015