Free Gift Packaging
Distinguished silver box
Stylish silver ribbon
Personal gift message
Diamond Accent Claddagh Ring in 10K White Gold
Item# 18866095
Celebrating love, beauty and Irish culture, this Claddagh ring sparkles in cool 10K white gold and shimmering diamond accents. The traditional Claddagh ring is a meaningful token of loyalty, friendship and love. The hands represent friendship, the heart represents love and the crown represents loyalty. Finished with a bright polished shine, ring is a dazzling look of love. View product details.
Special Offers
FREE SHIPPING with Ship-to-Store
Rated 5 out of 5 by 4 reviewers.
Rated 5 out of 5
 by
Reciever
Love it!!
I got this from my boyfriend for Christmas and I absolutely adore this ring! This ring is unique in comparison to most claddagh rings because the heart, crown, and hands are very defined; where as the traditional claddagh ring has clunky features and a basic design. There are 6 small diamonds, so it's not too flashy, but gives a nice subtle shine when under lights. My one and only concern is that the crown portion of the ring gets caught on things (mainly pockets) VERY easily. I suggest getting the protection plan for an aditional cost just to stay on the safe side.
January 12, 2016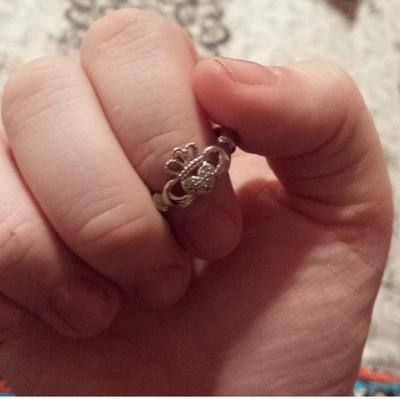 Rated 5 out of 5 by NikkiB First ring from my Man I've always wanted a ring just like this.... Peoples, you guys knocked this ring out of the park. I am completely in love with it & the man who surprised me with it. The sparkle from the Diamonds makes me feel incredible ever time I look down at it. Thank you Peoples <3 July 24, 2015
Rated 5 out of 5 by SarahJean55 Beautiful! Received this as a gift and love it! I get so many compliments on this ring and definitely love showing it off! The diamonds add that extra sparkle and in white gold it's stunning. August 28, 2014
Rated 5 out of 5 by Labradorian To be admired.... I've had a lot of people comment on the beauty of this ring. If you purchase this ring you won't be disappointed. July 18, 2013