Diamond Accent Heart Locket in 10K Gold
Item# 15944531
A keepsake for your most precious memories, lockets securely hold photos of those you love and cherish. Designed with intricate scrollwork, this 10K gold heart-shaped locket is made unforgettable with a brilliant diamond accent sparkling at the centre. This treasure suspends from an 18.0-inch rope chain so you can wear it close to your heart. View product details.
Special Offers
FREE SHIPPING with Ship-to-Store
Rated 4.7 out of 5 by 3 reviewers.
Rated 5 out of 5
 by
NoraJeanne
Future heriloom
This locket was given to me as a present by someone I love very dearly. It?s a beautiful token and I?ve received many compliments on it. The floral scrollwork on this locket is very special. I?ve seen so many plain gold lockets, but the delicate details of this one really make it stand out. The chain is light, but I think it suits the feminine design. Overall, this locket is very well crafted and style itself is timeless. Most people assume that it?s an heirloom piece I inherited from my grandmother and I don?t feel a need to correct them. I adore it and someday, my daughter will too!
December 11, 2015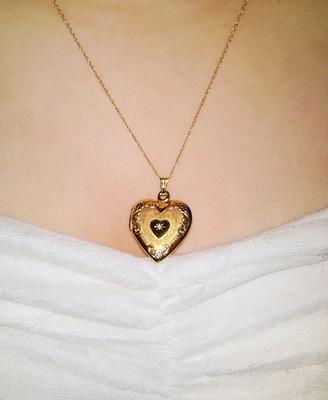 Rated 5 out of 5 by PinkBaubles Classic Beauty I have always wanted a keepsake heart locket in yellow gold. The engraving is so pretty on this one. I like to change the chain sometimes. A Singapore style 20? chain goes well with this locket. April 17, 2013
Rated 4 out of 5 by Josie Love it! My boyfriend got this for me on sale for our 3 year anniversary. It's very beautiful & reminds me of an antique family heirloom. The chain is a bit to small & tangles easily. Just be cautious June 19, 2013