0.10 CT. T.W. Diamond Anniversary Band in 10K White Gold
Item# 19548882
This 0.10 ct. t.w. diamond anniversary band is set in 10K white gold. View product details.
Special Offers
FREE SHIPPING with Ship-to-Store
Rated 4.3 out of 5 by 3 reviewers.
Rated 4 out of 5
 by
CharWal
Good value
Quite a pretty ring. The width was not listed anywhere and is much narrower than I anticipated (about 1 mm) and compared to my 3 mm engagement ring, it looks a bit odd so I haven't decided whether to keep it or not. Overall, very pretty, would look good on a smaller finger than mine (size 8) and next to a slimmer engagement band (<3mm).
July 28, 2016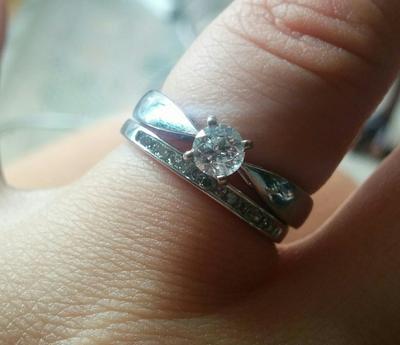 Rated 5 out of 5 by Iris Simple and daily for married women For sure, this price is not for shiny and big diamond wedding ring. You got to know that before you choose it. But if you just want to choose a slim simple daily wedding ring, it is right for you. Sometimes we don't want to wear big or expensive ring but we want to show that l am married, this ring is better than the whole metal ring, that is a little bored. November 16, 2016
Rated 4 out of 5 by frenchharpsichord Exactly what I wanted! My husband and I are celebrating our 5th wedding anniversary this year. I wanted an anniversary band that was delicate and a good value. This ring fits all of those things. It is exactly what was promised...delicate and pretty. It has a nice sparkle too it but it isn't too blingy. It's perfect for everyday wear and goes with my wedding set beautifully. Thank you People's for another great purchase! April 15, 2016