0.50 CT. T.W. Diamond Frame Bridal Set in 14K White Gold
Item# 19702737
Orig. $1,199.00
Now $919.99
Prices in effect through 15 February 2017
All of the love you've shared in the past comes down to this one special moment. Ask for her hand, and offer your heart, with this stunning 14K white gold bridal set. The engagement ring shines with a 0.20 ct. round diamond solitaire shining brightly View product details.
Special Offers
FREE SHIPPING with Ship-to-Store
Rated 4.8 out of 5áby 4 reviewers.
Rated 5 out of 5
áby
Mattyy
LOVE IT!!
Beautiful bridal set! This is a smaller ring set, perfect for women who dont want a big bulky ring but still has that stunning sparkle. Really stands out :) Worth every penny!
December 11, 2014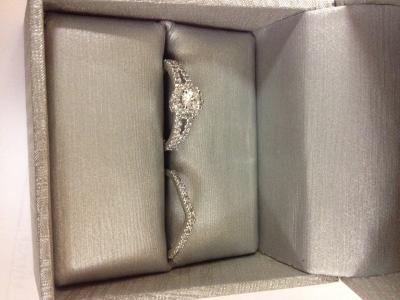 Rated 4 out of 5
áby
Bride2Be
Beautiful Set. The pictures do not do it justice!
My FiancÚ purchased this set and proposed to me with it. I am blown away at the appearance of this set. It is absolutely stunning on. The pictures on the website to not do the ring any justice. I wanted something inexpensive and beautiful. He hit the jackpot when he grabbed this set for 800.00 plus tax. Totally worth it. I couldn't be happier that I am marrying the man of my dreams.. and get to rock this ring for the rest of my life! :)
July 26, 2014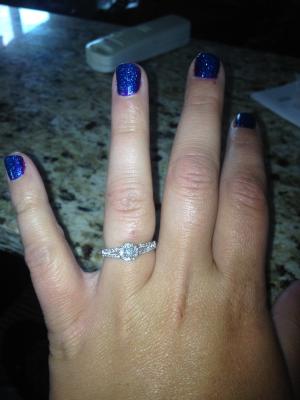 Rated 5 out of 5áby angelvanessa222 Love it I've been watching this ring online for a while now! When it went on sale I emailed my partner and told him this was the ring for me. He ordered it and proposed on my 29th Birthday. I absolutely love it. For the price you really can't go wrong. April 21, 2014
Rated 5 out of 5áby sunshine86 Love love love it!! Received this ring my my long term boyfriend and I love it, Great price and has the appearance that it is more expensive. Very beautiful, love how it sparkles! May 7, 2014