Free Gift Packaging
Distinguished silver box
Stylish silver ribbon
Personal gift message
Heart-Shaped Lab-Created Ruby and Diamond Accent Three Heart Ring in 10K Gold
Item# 17100272
You love her - today, tomorrow and always. Celebrate your love with a trio of brilliant ruby hearts. Stunning in 10K gold, this exquisite ring features three bright red lab-created, heart-shaped rubies in graduating sizes embellished by sparkling dia View product details.
Special Offers
FREE SHIPPING with Ship-to-Store
Rated 5 out of 5 by 2 reviewers.
Rated 5 out of 5
 by
Mizzmary21
My Christmas Present!
Well I purchased this awhile back, and its still gorgeous. I asked for it for christmas and i received it! Its still one of my favorites and has not left my finger since i got it! Its a beautiful piece. I still enjoy it very much. I really love the heart cut on any stone. I always have which is why this ring speaks volumes to me. The stones are smaller but that does not take away from how gorgeous it is! This was my first Peoples purchase and i am very happy i chose to get it!
May 26, 2016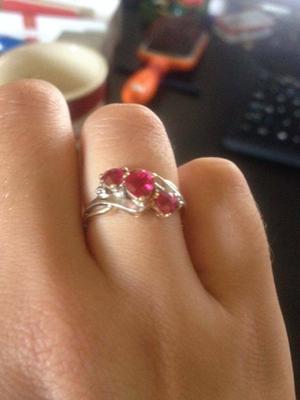 Rated 5 out of 5 by Gold I love it!!! This is a beautiful ring. I get so many compliments on it! It is very sparkly and the diamonds are crystal clear. March 22, 2014