Lab-Created White Sapphire Three Stone Ring in 10K White Gold
Item# 19593862
As romantic as a sweet fairy-tale, your love story continues to be an unforgettable journey. Celebrate your amazing romance with an incredibly stunning three stone ring. Glittering in bold brilliance, a trio of round lab-created white sapphires shine in prong settings across the top of this 10K white gold ring, while smaller lab-created white sapphires adorn the sides of the band. Jewellery makes a great birthday gift - surprise her with white sapphires any time of the year. View product details.
Special Offers
FREE SHIPPING with Ship-to-Store
Rated 4.7 out of 5áby 3 reviewers.
Rated 5 out of 5
áby
sapphire
I love it!
got it as a birthday gift and was in love with it . It sparkles with cool tones and is very gentle and romantic. Got compliments from many people! I adore this ring :)
September 17, 2015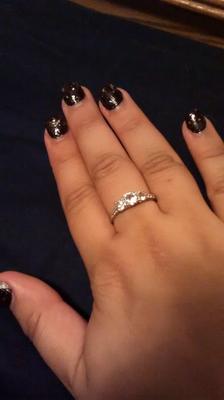 Rated 5 out of 5áby nella I love it My fiancÚ bought me this ring as engagement ring. We didn't want to spend a lot of money so it's prefect for what we want. I love it. July 13, 2016
Rated 4 out of 5áby CLB93 So pretty! As a disclaimer, I have only had this ring about two weeks. I cannot speak for its' durability. HOWEVER, I am highly pleased with it so far! I chose it together with my fiance as my engagement ring as I couldn't stand to spend a lot on a ring when we are saving for the future. The price point is right and the value is great. The photos used to show the item are magnified so much and I was concerned that this may look like the costume jewelry one might buy from a tween store, but that is not the case. In reality, this ring is dainty, sparkly, and offers a good amount of 'finger coverage' for your buck. The photos do not do this ring justice. The setting also has a lower profile than some other styles of ring, which makes it much more convenient for daily wear as I work with my hands all day and it hasn't caught on anything yet. White sapphires are their own stone so they should not be compared to diamonds, they are unique and beautiful in their own right. That said, it sparkles beautifully. It has more cool tones than rainbows, but that is my preference so I have no qualms about that! White sapphires need to be cleaned regularly to avoid appearing cloudy due to residue from everyday wear. The longer I wear this ring, the more I like it. Definitely worth taking a chance on. November 23, 2014