Free Gift Packaging
Distinguished silver box
Stylish silver ribbon
Personal gift message
Open Hearts Waves by Jane Seymour™ Diamond Accent Bypass Ring in Sterling Silver - Size 7
Item# 19991807
Orig. $249.00
Now $174.30
Symbolizing the journey to welcome infinite possibilities for renewal, change and growth, this fashion ring from Open Hearts Waves by Jane Seymour™ will sweep her off her feet. Expertly crafted in sleek sterling silver, this ring features a shimmerin View product details.
Special Offers
FREE SHIPPING with Ship-to-Store
Rated 1.5 out of 5 by 2 reviewers.
Rated 1 out of 5
 by
cre8asmile
So sad Im not so blue
I would like to start by saying I have a few pieces of jane Seymour collections and this ring is not a good choice. my husband purchased it for me on valentines day and by march I returned to the store with a complaint about the colour. if was nice and blue when first bought then over a couple of weeks the blue faded to just black metal looking.the store agreed that it was faded and they sent it back I waited 3 weeks to get another one in the store but the claw on one was sunken so they reordered another one. I had it sized and picked it up again another 3 weeks later and now it is gone back to that same black metal I take it off everynight and only wear it to work or out on evenings. Just not happy at all this ring will be the 4 th time we will have to go to the store as I am not keeping a ring that is dull and not holding the colour. is there something that can be done or I will have to return it and get something else ....thanks Jodi penfold
September 9, 2016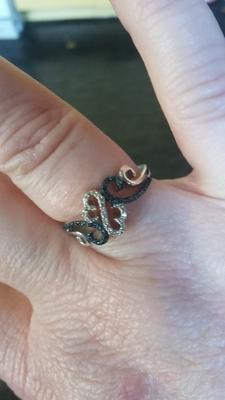 Rated 2 out of 5 by Saskgirl Not happy I had gotten this ring as a gift from my bf for valentines day. It was absolutely beautiful. As months passed I noticed the blue color starting to fade. Now it looks as if almost all the blue diamonds have fallen out and it just looks like dull silver metal?! Ive worn the ring every single day like most well made rings should be worn. My bf is not happy about it either. December 10, 2015