Free Gift Packaging
Distinguished silver box
Stylish silver ribbon
Personal gift message
Oval Blue Sapphire Filigree Ring in 10K White Gold with Diamond Accents
Item# 17481888
Delicate 10K white gold filigree, like precious, ethereal lace, combines with the deep blue of an oval sapphire centre stone to create a uniquely feminine ring. Two diamond accents sparkle at the sides, an extra touch of beauty. As September's birthstone, sapphire makes this ring the perfect birthday gift. View product details.
Special Offers
FREE SHIPPING with Ship-to-Store
Rated 5 out of 5áby 9 reviewers.
Rated 5 out of 5
áby
amyleigh
Beautiful Antique Charm
I had originally proposed to my now fiance so i didn't originally get a ring but he pulled through with this beautiful purchase. I have an antique ring that belonged to my great grandmother that I had wanted to wear as my wedding band and I wanted a ring to reflect the same style. I spent countless hours looking at vintage and antique rings online but just couldn't find quite what I was looking for. Until i stumbled across this beauty, my fiance doesn't like diamonds so this was an excellent choice for both of us, the antique charm, and understated beauty for me and the beautiful sapphire for him. I posted a photo on instagram and facebook and within minutes i was getting comments about how beautiful it is. I will be wearing this ring for years to come. It is a beautiful piece with great value.
December 20, 2016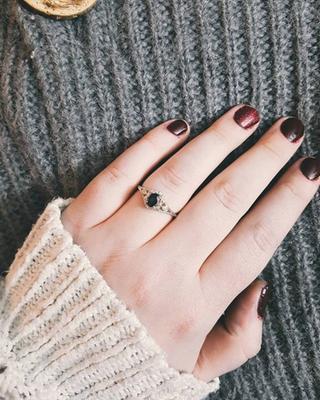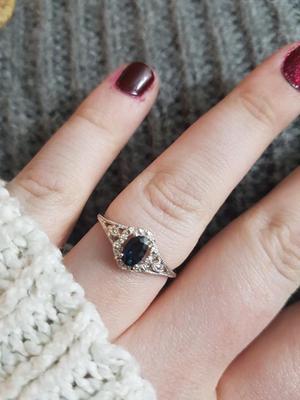 Rated 5 out of 5
áby
Hailey
Couldn't have found a more perfect engagement ring
I LOVE IT SO MUCH! Lucky me, I got to pick out my own ring so I spent a day, and I mean A DAY - from the time I woke up, till the time I went to sleep at night - online looking at HUNDREDS of rings. This is it! I love that the sapphire isn't a huge "rock". The diamonds on either side are so petite and dainty - it's amazing. Filigree is always a winning option, too. One thing you might want to keep in mind is that the stock image on this website isn't particularly accurate when it comes to stone tone. It looks very bright blue online, but it's darker in real life. I wasn't upset about it though - I actually love it even more - it has such a sophiscated vibe to the colour of it. It also shines flecks of bright blue when you move it around in light - Reminds me of a night sky with shooting stars! I'm so glad to be wearing this ring for the rest of my life.
June 13, 2014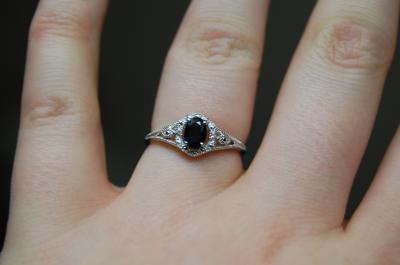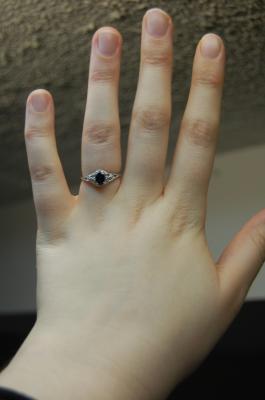 Rated 5 out of 5
áby
mjkkhhhh9
i love this!
i always wanted a saphfire engagement ring instead of a diamond. I wanted something that was different, it looks antique and i love all the detail in the band!! when my boyfirnd...now my husband.. gave me this it was perfect!!
July 11, 2013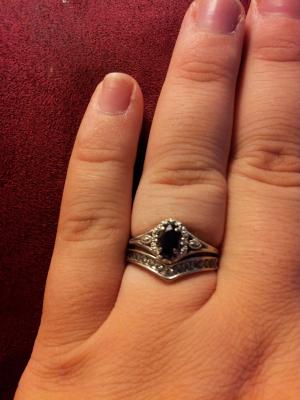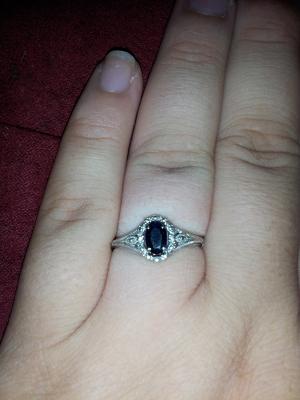 Rated 5 out of 5áby Amacdon Absolutely stunning After going from store to store my fiancÚe and I stopped in at people's. The moment I saw t I knew it was the one. I get a lot of compliments everywhere I go! I was nervous at first because I am hard on my jewelry but after banging it (accidentally) on almost every surface it still looks exactly the way it did the day I got it. I would recommend this ring to anyone who is looking for an older style ring. It is not only a great deal and beautiful but it can withstand day today living with ease! I am SOO happy with it. April 12, 2013