Emerald-Cut Blue and White Sapphire Ring in 14K White Gold
Item# 17727207
Capture the timeless beauty of blue sapphire in an emerald-cut, carried through from the magnificent centre stone to the side stones on either end of the shank. Blue sapphire contrasts its lively hues with 14K white gold and sparkling white sapphires to form this ring, a work of beauty. As September's birthstone, sapphire makes this ring the perfect birthday surprise. View product details.
Special Offers
FREE SHIPPING with Ship-to-Store
Rated 3.3 out of 5 by 3 reviewers.
Rated 1 out of 5
 by
Lynn
Stones are low-quality; photo is inaccurate
I ordered this sapphire ring from the online store. It was perfectly blue in the picture. When it arrived, all the sapphire stones in the ring are completely ink-black. If you look really hard and tilt it at just the right angle and look THROUGH the stone INTO a light, you can tell it is blue.. barely. But in any other situation (ie: if it is on your finger!), it is black. I went to look it up and found out that this means the stone is cheap and low-quality. While I wasn't expecting it to be perfect, I at least expected the color of stone I wanted.
July 16, 2014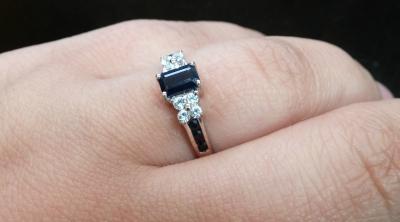 Rated 4 out of 5 by Katlyn Classy and Striking Purchased this item in-store. As I am a fan of dark and saturated stones, I found this piece to be beautiful and very classy. The darkness of the stone makes the ring appear stronger and far more eye-catching. The inclusions visible in the center stone give it a nice, velvety appearance. I feel that the piece was appropriately priced for the amount and quality of the stones, and was pleased that the sapphires were natural - I am not a fan of synthesized or chemical/heat-treated gemstones. Although the stones may have been nicer in a lighter, more transparent form, such sapphires are far outside of my budget. I am thrilled with this ring and am very impressed with the service I received in-stores. March 14, 2015
Rated 5 out of 5 by SparkleLover Absolutely Love! Saw in store and received for Xmas. Always wanted a blue sapphire ring. Modern white gold style and blue and white sapphire details on shank really pop. Contrary to the first review the color of the stone is correct in keeping with a genuine blue sapphire. The lighter colored blue sapphires that the previous reviewer wanted are lab-created, that is why they are lighter. The stones in this ring are NOT cheap and the price reflects in comparison with the lab-created. If you do your homework you will see genuine stone rings are always higher in price and quality. I love it and would definitely recommend. December 25, 2014