Fall is one of our favorite seasons! The cooler weather calls for sweaters, jeans, boots and jewellery styles that perfectly complement your look. Trending jewellery looks for fall run the gamut from posh pearls to colourful gemstones to styles that are uniquely you. Here are the jewellery styles we see trending this fall-into-winter season.
---
Perfectly Posh: Pearls For The Win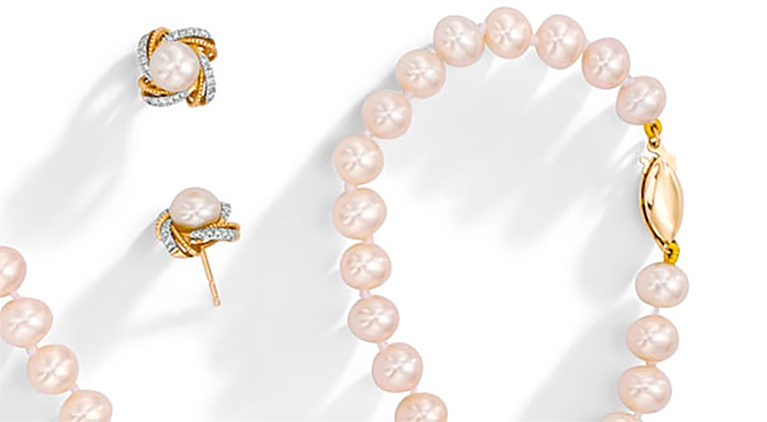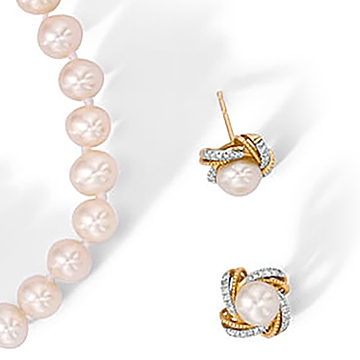 You may or may not be venturing out of the house, but if you are (and even if you're not), pile on the pearls! Pearls have been trending for a while now and don't show any signs of stopping. We're seeing pearls on the runway for fall and beyond – certainly well into spring.

Pearls have a unique beauty that can only be called luminescent. And with so many styles and even colours available, anyone can find pearl jewellery to love.

Working from home? Get Zoom-call ready by pairing a white button down shirt with layers of pearls around your neck and a pair of pearl studs or pearl hoops. Going out? Pearl bracelets and pearl rings are fabulous paired with your favourite cocktail dress and take even the most casual pairing of jeans and a tee shirt up a notch.

Another great idea? Create a modern mix my pairing pearl jewellery with other great styles – like gemstones and mixed metals. Think of your pearls like a great neutral that complement just about any other jewellery style and you can't go wrong!

Whether you're looking for your first strand or pearls or are adding to your collection, you'll find all kinds of great pearl styles to choose from at Peoples Jewellers.
Shop Pearl Jewellery
---
Still Hot: Layering and Stacking Jewellery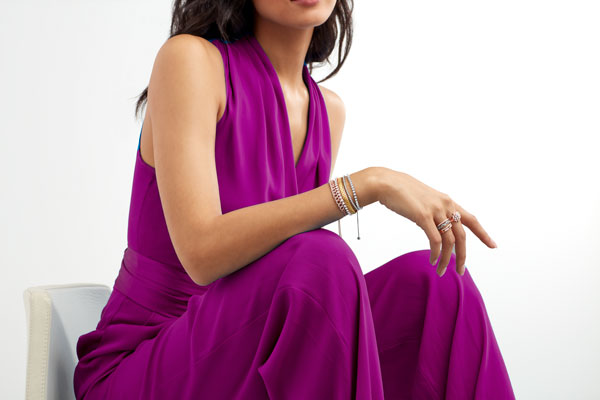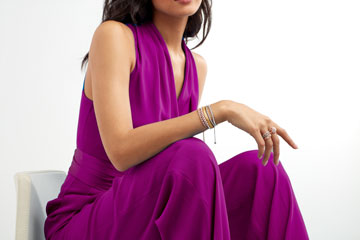 Another trend that just won't stop trending is layering and stacking! Layering necklaces, earrings, bracelets and stacking rings in sterling silver and all the colours of gold are an integral part of every fashionista's jewellery wardrobe. What's the best way to layer? Simply take the pieces you love and put them on! For necklaces, it's best to have styles in graduating lengths, so as to not look jumbled. Start with a choker style and keep adding styles in longer and longer lengths until you feel you've achieved layering nirvana! Mix chains with pendants, maybe add some color with gemstones or pearls, and finish with some sparkle from a diamond look or two and you're good to go.

Earrings are great layered as well. Pair hoops with more hoops, drops and even studs and climbers to create a look that speaks to you. Again, mixing metals, gemstones and diamonds is perfectly fine.

Wrists and fingers need stacking love too! Pair your favourite watch with your favourite bracelets. And add some extra bling to your wedding ring (and other fingers) with stacking ring styles.

We don't see the layering and stacking trend going away anytime soon, so have fun creating your own unique layered and stacked looks for fall. And best of all, you can find all kinds of great layering and stacking looks at Peoples.
---
Colour Theory: Bold Gemstone Styles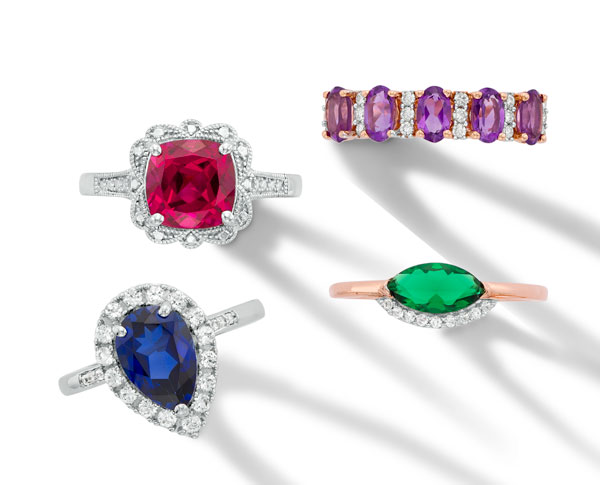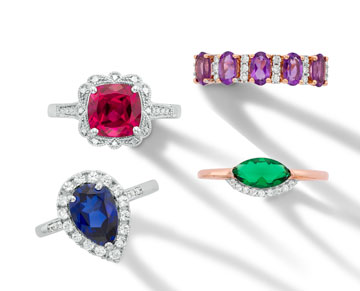 Fall is all about colour: the leaves turn crimson, yellow-gold and umber, we break out the sweaters in rich purples and deep reds, and set our tables with chrysanthemums in red-gold, maroon and orangey-brown.

The opulence and bounty of the season is reflected in the gemstone jewellery designs we see trending we see this time of year: golden-yellow citrine, rich red garnet, deep purple amethyst, intense smoky quartz and others along with diamonds in all colours. Of course, you're not limited to wearing only autumnal-hued gemstones. A stone of any colour that brightens your mood and makes you feel beautiful is always appropriate.

Feel free to incorporate gemstone looks into your fall layers, adding a pop of unexpected colour as a focal point. Pair your favourite gold hoops with a pair of gemstone studs. Layer in a colourful gemstone pendant with your mix of gold chains. Create a stack of slender gemstone rings on your fingers or add a gemstone bracelet in a rainbow of colour to your wrist. Tis the season of colour! And you'll find a grand selection of gemstone styles to love at Peoples.
Shop Gemstone Jewellery
---
Express Your Beliefs: Inspirational Jewellery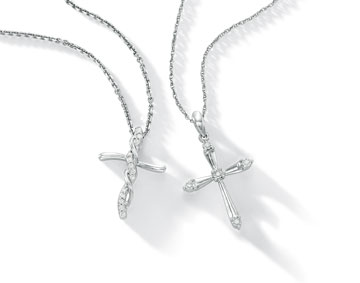 Let's be honest. This year hasn't quite turned out the way many of us hoped it would. It's during these interesting and unprecedented times that many turn to their faith. Inspirational jewellery is more than a current trend. It's a beautiful way to express your beliefs in a meaningful – and fashionable – way. It can inspire one to keep striving, keep hoping and keep moving toward something better.

Inspirational jewellery can be much more than just a beautiful accessory. For instance, wearing a cross pendant can reflect one's faith in a higher power. An angel or an angel's wing design reflects the belief that someone is keeping watch. Wearing a hamsa, or evil eye, is thought to guard against misfortune and ill will.

Inspirational jewellery is trending and rightfully so! At Peoples, you'll find a great collection of inspirational necklaces and pendants, rings, bracelets and earrings designed for reflection, introspection, and, of course, great style.
Shop Inspirational Jewellery
---
Brand Your Look: Personalized Styles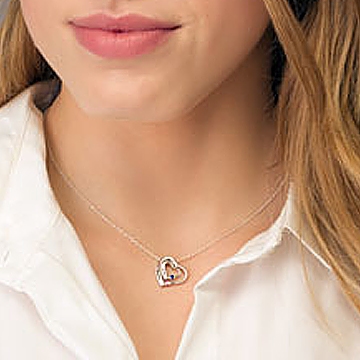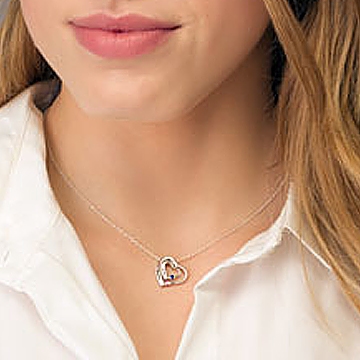 Personal "branding" is one of the newest jewellery trends we're noticing. It's a great way to show off and celebrate the unique combination of experiences, beliefs and skills that make you who you are. Personal branding sets you apart from everyone else.

Personalized jewellery is the perfect way to show off who you are and what you stand for. And at Peoples, you can find all sorts of creative ways to show off your style. You'll find necklaces that will spell out your name or words you choose that inspiring or meaningful – some even include gemstone accents to add a pop of colour. Wear your selection alone or layered with others. Brand yourself Mom of the Year with a style displaying names and birthstones for every member of the family. Or you can choose an initial or monogram style that shows your individuality.

Personalized styles are always in fashion at Peoples! Let us help you find and customize the necklace, bracelet, ring or earrings that show off your personal style perfectly.
Shop Personalized Jewellery
---